Storied College Football Programs That Will "Struggle" in 2019
David Kenyon (Bleacher Report)  —  Teams among the top 30 of all-time victories were considered a "storied" program for this discussion. The programs are listed in ascending order of wins.
"Struggle" is a vague term, and it should be applied differently to the schools highlighted. Some have national and conference title expectations, while others are looking for bowl eligibility.
Either way, those teams will not achieve their respective aspirations in 2019.
Six schools designated: UNC, NAVY, ARK, GT, AUB, USC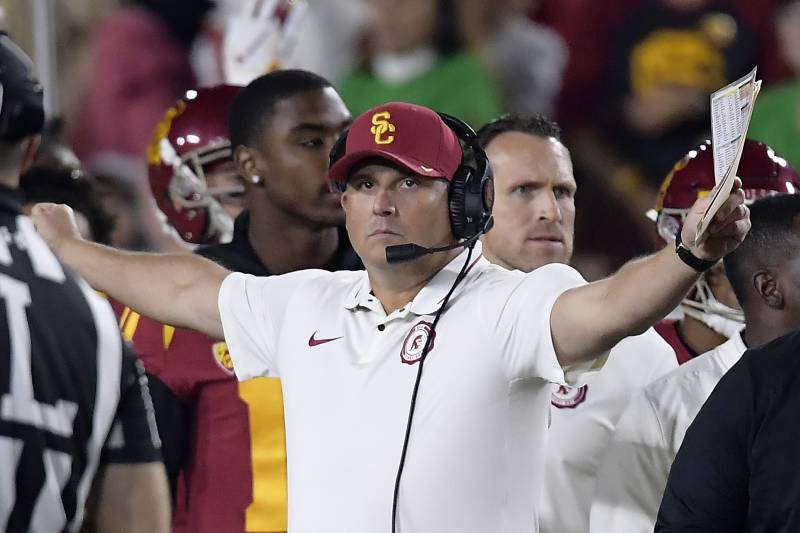 Mark J. Terrill/Associated Press
USC Trojans  —  All-time wins: 839 (ninth)
The return of quarterback JT Daniels plus the arrival of offensive coordinator Graham Harrell is a promising combination at worst. Four of USC's seven losses in 2018 happened largely because the offense failed to crack 20 points.
What will define the Trojans next season is whether a youth-filled defense can excel and how quickly that happens. Last year's rotation was filled with seniors, freshmen and little in between.
"How quickly" is critical, as USC's first six games include Stanford, Utah, at Washington and at Notre Dame.
Nobody would've blinked had USC canned Clay Helton after the 2018 campaign. If the Trojans start 3-3 or 2-4 in 2019, it might finally happen in October.